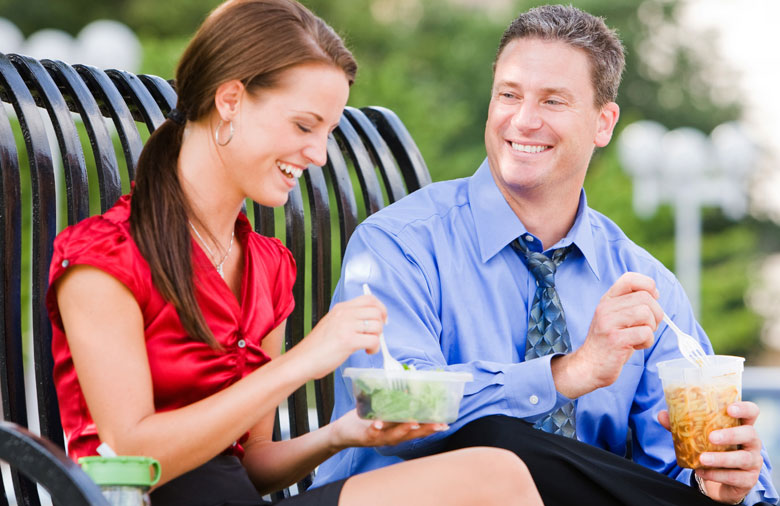 It's just before noon and you realize you only have 10 minutes until another long afternoon meeting starts. But your stomach is telling you it needs sustenance now. A quick dash to the vending machine and lunch is served – chips and a soda.
Does all of that trading a healthy lunch for junk food make your paycheck bigger? Probably not. But it does increase your belt size.
The solution is to bring your own healthy lunch to work made of quality ingredients that will keep you fueled and ready to conquer at work throughout the day.
Here are 5 things to keep in mind when preparing a healthy lunch:
Select a healthy protein source
Chicken breast
Roast beef
Tuna
Beans
Tofu
Choose healthy grains
Whole wheat bread
Buckwheat noodles
Whole grain bagel
Quinoa
Bulgur
Add lots of crispy vegetables
Celery
Carrots
Radishes
Cherry tomatoes
Button mushrooms
Include a fresh fruit
Pear
Blueberries
Apple
Pineapple
Orange slices
Drink a beverage without added sugar
Water
Coffee
Tea
Low-fat milk
Almond milk
To build a healthy lunch, choose one option from each category. Here are 3 ways to mix and match them:
Chicken breast sandwich on whole wheat bread, cherry tomatoes, blueberries & almond milk
Tuna salad over buckwheat noodles, mixed with chopped vegetables, a sliced pear & iced tea
Tofu mixed with quinoa and chopped fruit, radishes on the side & almond milk
These are just a few ways to make a quick and healthy meal for lunch that you can enjoy in just a few minutes before speeding off to your next meeting.
For more healthy lunch ideas, read the 50 Lunch Ideas for Work or speak with a dietician who can address your specific nutritional needs.
Share this article with someone you think might benefit from learning about healthy lunches.
Source
http://www.caloriesecrets.net/how-to-avoid-overeating-while-at-work/
Related Article