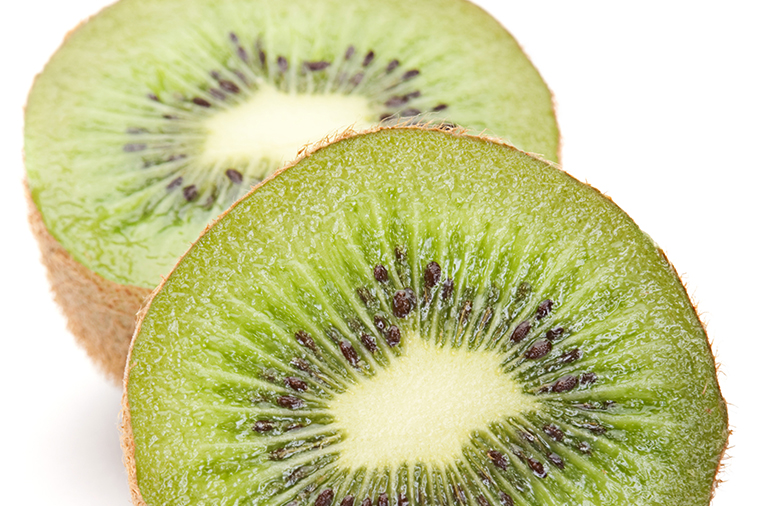 With the organic label seeming to be everywhere lately, is it really worth the extra cost? Why is it suddenly such a big deal to eat organic foods anyway? Are they really any different, and how do you know what to buy organic?
There are lots of questions being asked about organic foods. And not everyone is clear about the exact nutritional benefits. But one thing is for certain, organic foods are grown without synthetic pesticides and fertilizers.
This protects them from any chemical residue that can be left behind – and then ingested.  But some foods are fine if they are raised with conventional methods.
As our series continues, we'll continue highlighting 2 foods each week that are still ok if not grown organically – plus a helpful tip to reduce any risk from chemical residue.
Kiwi – Even though kiwi has a thin skin that seems like it would be easy for bugs to penetrate, it's hardly ever sprayed with pesticides. That's good, because kiwi is brimming with a vast amount of antioxidants and fiber, and helps improve immune function.
Tip – Since the skin is edible, it's best to still wash it thoroughly before slicing in to enjoy its bright green flesh. You can also opt to peel the kiwi by cutting off each end and then gently tearing down the skin vertically – or just scoop out the insides with a spoon.
Mango – Because of its dense peel, the sunset-colored center is not harmed by pesticides or toxic chemicals. At a mere 100 calories in a 1-cup serving, mango offers 35% of your daily Vitamin A.  
Tip – Be sure to use a mild produce cleaner to ensure there is no residue on the peel before cutting in to it. Slice the mango into 3 equal sections, cutting right along the pit. Score the insides with a knife, invert and then slice off the sections.
Next week, we'll discover how to help ensure that non-organic grapefruit and asparagus are ok to eat.
Sources:
http://www.whfoods.com/genpage.php?tname=foodspice&dbid=41
http://www.eatingwell.com/food_news_origins/green_sustainable/organic_or_not_is_organic_produce_healthier_than_conventional
Related Articles
When Is It Ok To Not Buy Organic? Health Series – Part 1
When Is It Ok To Not Buy Organic? Health Series – Part 2
When Is It Ok To Not Buy Organic? Health Series – Part 3
When Is It Ok To Not Buy Organic? Health Series – Part 4
When Is It Ok To Not Buy Organic? Health Series – Part 6
When Is It Ok To Not Buy Organic? Health Series – Part 7