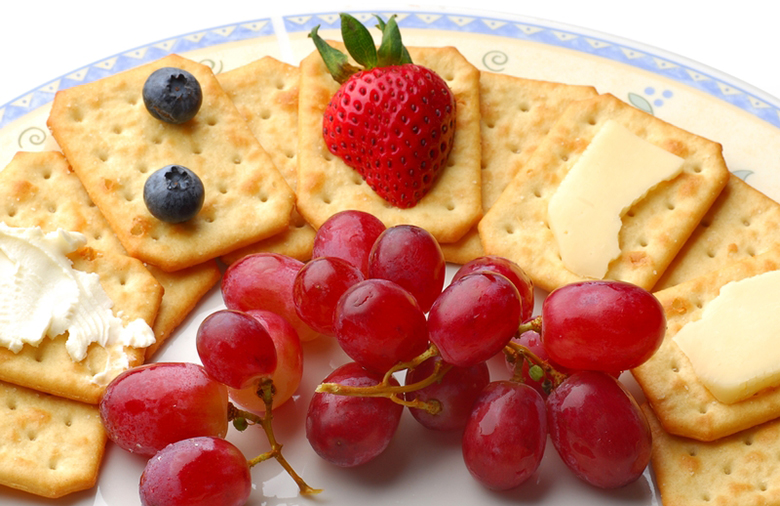 The clock may be ticking toward bedtime, but then your tummy starts talking. That faint whisper tempts you to indulge in a little channel-surfing sustenance or extra pinning power to finalize your fabulous inspiration board. How do you quiet that growing grumbling before dozing off?
When those late night cravings just can't be hushed, it's okay to give in – but in a smart way. Instead of a high calorie refrigerator raid or devouring half a cheesecake, try these 5 easy and nutritious snacks to calm even the noisiest of growlings. Remember to check the serving size so your snack stays in the 150-200 calorie range.
1. Frozen Fruit – keep some blueberries – or any fruit – in your freezer. Eating it frozen is like enjoying a natural popsicle, but one packed with vitamins, antioxidants and fiber.
2. Multi-grain crackers – the selection is nearly endless with the many varieties on the market. Just make sure you choose one made with stone-ground whole grains or sesame seeds. Dip them in a little hummus or peanut butter for added protein.
3. Popcorn ­– opt out of those trans fat-laden microwave bags and invest in an inexpensive air popper. Nix the butter and raid your spice rack. Get creative and discover if you fancy the tanginess of turmeric, the sweetness of cinnamon or the kapow of cayenne.
4. Multi-grain pretzels – skip the greasy chips and crunch on a large handful of pretzels. Best part, they come in fun shapes – twists, sticks, rods, nuggets and squares – to munch on.
5. String cheese – zip open a little packet and savor the delectable strips. Enjoy the all-time favorite mozzarella or step it up with cheddar or other varieties on the market.
No matter what you choose to put your cravings to rest, make sure there's a balance of proteins, carbohydrates and fats. That combo gives you everything you need to finish your online efforts or find that favorite oldie on the tube. Now you can drift off fully nourished and wake refreshed in the morning.
Related Article
Make Healthy Snacks More Appealing With These Innovative Ideas